AQUA GOLD FINE TOUCH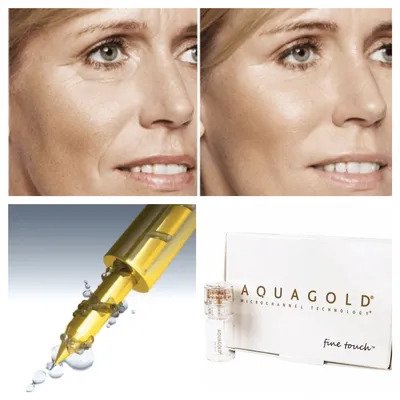 What is Aqua Gold Fine Touch?
Rightly named the "golden cocktail facial" in Hollywood, this is a pain free treatment that aims to deliver well hydrated red-carpet ready skin with no down time. 24 carat gold plated hair fine needles are used to infuse the skin with targeted solutions to address various skin concerns. The serums nourish, feed and rejuvenate the skin from within.
Which Skin Condition is it Beneficial for?
Aqua Gold Fine Touch can be used to address dryness, fine lines, wrinkles, pigmentation, enlarged pores, acne scars, dark circles and improve overall skin tone and texture.
How Does it Work?
A small device that contains 20 hair fine, gold-plated spiral thread needles is used in a stamping motion on the skin to create micro channels. The micro-channels bypass the skin's natural barrier and help to deliver the solution directly into the dermis.
The needles are so fine and gentle, the eye area and lips can also be treated. They do not cause severe trauma to the skin and therefore you won't need down time for the skin to heal post treatment. The two solutions that can be used are rejuvenating formulations that target signs of ageing, repair damaged skin, even out skin tones, reduce inflammation and brighten the skin.
What is the Treatment Procedure?
Make-up free skin is cleansed with an antiseptic wipe. An anaesthetic is not required as the needles are hair-fine. The needles are used to create micro channels and infuse serum in the face and neck. Any remaining serum is massaged into the skin with gloved hands. Aqua Gold fine Touch can be used on its own or in combination with other treatments such as Chemical Peels, LED therapy and Micro-needling.
What to Expect After the Treatment?
Side effects may include slight to moderate redness, slight swelling and or mild tingling. The treatment is mainly painless but can leave some sensitive areas feeling tender such as around the eyes, lips and the neck. Most side effects subside in 10 mins to an hour.
UNSURE IF THESE TREATMENTS ARE FOR YOU?
See the 'skin concerns' page for comprehensive information on which treatments best suit your individual skin goals.