BYONIK PULSE TRIGGERED LASER INFORMATION
What is the Byonik Laser?
The Byonik is the world's first Patented, Pulse-triggered Laser Technology. It provides a safe and non-invasive light technology, combined with Hyaluronic Acid and Anti-Oxidants to effectively reverse the signs of ageing and associated skin conditions. The Pulse triggered laser adjusts it's frequencies precisely to the rhythm of your body and enables the cutting edge Hyaluron gels and Anti-oxidants to be delivered effectively to each individual cell.
It uses both Red and Infra-Red laser light waves to promote healing, stimulate skin metabolism and provide visible skin rejuvenation.
The Byonik offers a 3-step procedure to power up each individual skin cell. The method stimulates cell processes, maximizes the skin's regenerative capacity and slows down the cellular ageing processes. The skin receives essential moisture, skin cells are activated, collagen and elastin production is stimulated and the skin's micro circulation is enhanced.
You can expect immediate and visible results after the first treatment.
What is the Treatment Procedure?
The treatment is completely non-invasive, pain free and extremely relaxing.
A pulse monitor is placed on the finger at the start of the treatment. Following a cleanse and enzyme peel, special Hyaluron Gels are massaged into the skin. The Laser light helps the gel molecules to penetrate to their predetermined location during the Laser Treatment. This due to the Gel's highly specialised formulation and manufacturing process. Various masks may also be applied according to the skin condition and concern.
Over all the treatment is calming for both the skin and the client. The average time for a treatment is 60 mins.
Which Skin Condition is it Beneficial for?
The Byonik Laser Treatment is beneficial for all skin conditions, skin types and skin colour.
Lines and wrinkles
Enlarged pores
Uneven skin tone
Mild skin laxity and loss of volume
Melasma
Sensitive skin
Rosacea
Acne (all levels)
How Does it Work?
The Byonik Pulse Triggered Laser adapts it frequency to your pulse during the entire treatment. At the optimal moment, it releases it's energy into the skin. This allows the anti-oxidants in the hyaluronic acid and gel to enter directly into the skin cells. The combined delivery of Red (658nm) and Near-infrared light (808nm) ensures that the energy transferred to all layers of the skin simultaneously.
What to expect after the treatment?
The treatment has no downtime. It is possible to wear make-up, go to the gym and use actives in skin care products.
Most clients see an instant rejuvenation and radiance, however, effective results are usually achieved with a course of 6 treatments.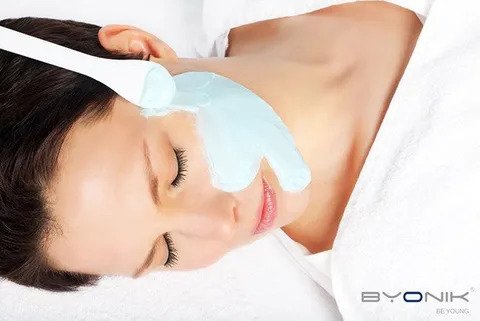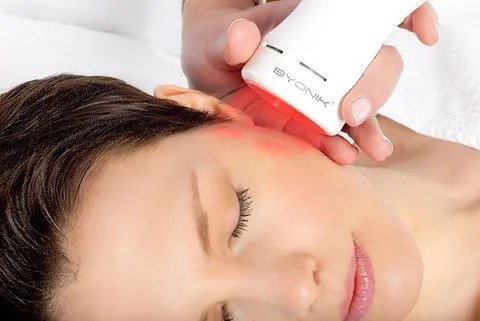 UNSURE IF THESE TREATMENTS ARE FOR YOU?
See the 'skin concerns' page for comprehensive information on which treatments best suit your individual skin goals.