OXYJET GO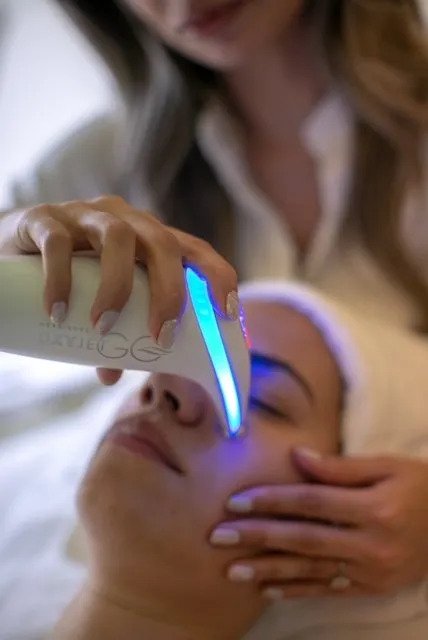 1) What is OXYjet GO?
Oxyjet is an oxygen- based device that offers a gentle, effective and safe treatment that rejuvenates the skin from within.
2) Which Skin Condition is it Beneficial for?
Oxygen infusion can help to reduce the appearance of fine lines and wrinkles, and improve skin elasticity. It can help to rejuvenate the eye area, and even out skin tone and pigmentation irregularities giving the skin an over-all glow.
3) How Does it Work?
They work by resurfacing and regenerating skin tissue. Superficial peels help to slough away the top layer of the skin by breaking down the protein bonds between the epidermal cells revealing a smoother and brighter complexion. Deeper or more aggressive peels work by instigating the natural healing mechanism which helps to improve production of collagen and elastin.
4) What is the Treatment Procedure?
The treatment uses a combination of two serums, the first helps to carry and deliver the active ingredients from the second serum and also hydrates and brightens the skin, the second can be chosen to target any specific skin concern.
OXYjet Serum 1 is applied to the cleansed treatment area, this is a Hyaluronic Acid based serum that contains many active ingredients to help with skin hydration, brightening and collagen synthesis. This is followed by Serum 2 which volumizes, plumps, tightens and soothes.
The device is then used in the pulsing mode to help push the serums into the dermis. After pulsing, the device can also be used in the 'flow' mode to help with lymphatic drainage with a gentle, decongestive massage. This treatment can be used on its own or as an add-on to other treatments such as Chemical Skin Peels, The Seriously Good Facial and LED Therapy
5) What to Expect after the Treatment?
The skin will feel fresh and well hydrated. Best results are seen 24-48 hours post treatment.
UNSURE IF THESE TREATMENTS ARE FOR YOU?
See the 'skin concerns' page for comprehensive information on which treatments best suit your individual skin goals.