COOLIFT CRYO GUN TREATMENT
COOLIFT CRYO GUN INFORMATION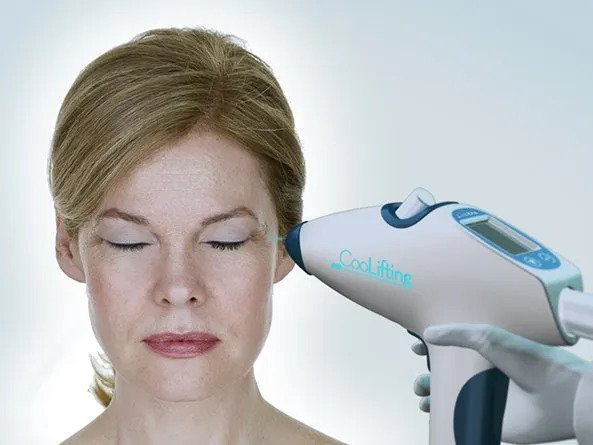 1. What is the CooLift Cryogun?
The CooLift Cryogun is a revolutionary system that performs a radical treatment using a safe, fast and efficient method. Active ingredients and hydration are pulsed in to the deeper layers of the skin using CO2 flow with a combination of a low temperature and high pressure. It improves the appearance and texture of the skin in a single 3 minutes session.
With the use of 3 different active formulations, The CooLift Gun can be used for 3 different treatments to address various skin conditions and cellulite.
2. What is the treatment Procedure?
The treatment takes 3 minutes.
It is a painless application of the CO2 and serum through the gun – almost like a very loud, high pressure air brushing.
You may feel pins and needles from the pressure of the spray but not to the extent of the treatment causing any discomfort.
THE COOLIFT CRYOGUN TREATMENTS
An excellent addition to most facials, especially if you have a red-carpet event!
Which Skin Condition is it Beneficial for?
The CooLift Cryogun can be used on all skin types.
It has an immediate plumping effect on fine lines and wrinkles, it improves skin texture and increases radiance.
If treatments are done frequently, there are long term benefits of improved skin tone, texture and elasticity.
How Does it Work?
The CooLift Gun sprays the facial tissues with a powerful CO2 flow combined with a serum based Hyaluronic Acid. The high-pressure CO2 causes the skin's temperature to drop creating thermal shock and simultaneous blood vessel constriction and dilation. This increase in microcirculation floods the skin with oxygen and nutrients. While the combination of cold and high pressure helps to enhance product penetration. The hyaluronic acid molecules in the serum diffuse through the epidermis and begin to swell, causing a plumping effect in the skin. This helps to stimulate the deeper layers of the skin causing an increase in tissue oxygenation and collagen formation.
The gun is, however, quite loud and you will be warned before it starts!
What to expect after the treatment?
No special care is required after the session.
You can enhance the results by keeping the serum on for a while and using the correct home care products.
Expect to have nicely plumped and luminous skin.
An exciting new way to clarify skin tones with pigmentation issues, acne breakouts and skin blemishes.
Which Skin Condition is it Beneficial for?
Cool clear works on acne, blemish prone skin, uneven skin tone.
How Does it work?
The treatment sprays the skin with pigment lightening and skin clarifying actives such as Kojic Acid, Glycolic Acid and Vitamin C. The thermal shock created by the high-pressure application of CO2 helps the clarifying actives to penetrate the skin. It also dries up excess oil to help control breakouts. The naturally occurring chemicals work with the skin to blend and reduce small tonal changes that occur with age.
Number of Sessions Required?
CoolClear requires a continuous protocol of 6-8 sessions per month to reduce pigmentation and dry up break outs.
What to Expect After the Treatment?
CoolClear uses AHA's and pigment lightening actives so it is best not to use any other active products for up to 48 hours after treatment.
Skin tone will start to appear more even and blemishes will clear up with regular treatments.
CoolCell promises effective reduction of cellulite and it's visible effects.
How Does it Work:
The Coolift gun bombards the treatment area with high pressure CO2 and 3 special active ingredients with anti-cellulite properties; glaucine, caffeine, carnitine and natural extracts that help in the process of eliminating localized fat. The High Pressure and thermal shock help to deliver actives to the deeper layers of the skin.
Beneficial for:
This treatment is especially beneficial for the first signs of cellulite.
Number of Sessions Required:
8 Ssessions 1 per Week to see visible results.
A special Anti-Cellulite Gel Cream will be provided to apply on a regular basis after the treatment. The Gel Cream contains ingredients to help facilitate the drainage of cellulite. It has a heating effect that reactivates blood circulation to promote the drainage of retained fats and liquids.
BOOK A TREATMENT
To find out more about the treatment courses and packages – Get in Touch
COOLIFT HYDRATING RED CARPET FACIAL
Time: 40 mins Price: £150
An effective treatment that begins with a deep cleanse and exfoliation. The exfoliating technique is chosen according to the client's skin and may vary from steam extractions, sonic cleansing or a light exfoliating enzyme mask. The facial is finished with a CooLift gun treatment for instant hydration and radiance.
COOLCLEAR CLARIFYING FACIAL
Time: 60 mins Price: £180
Package of 6 Price: £900
A clarifying and brightening facial that begins with a deep cleanse, followed by a combination of red, blue and near infrared LED therapy to help heal acne lesions and calm inflammation. If the main concern is uneven skin tone and pigmentation a brightening mask is applied before the CoolClear treatment.
A Package of treatments is recommended to achieve the desired results.
COOLCELL ANTI CELLULITE TREATMENT
Time: 30 mins Price: £140
Package of 6 Price: £720
A quick and effective treatment for when the first signs of cellulite begin to appear. The treatment starts with a cleanse of the treatment area, followed by the CoolCell Treatment. The treatment ends with a firm massage with CryoGlobes. It is important to use an anti-cellulite gel-cream after treatment in order to get the desired results.
A Package of treatments is recommended to achieve the desired results.
UNSURE IF THESE TREATMENTS ARE FOR YOU?
See the 'skin concerns' page for comprehensive information on which treatments best suit your individual skin goals.