Hyaluronic Acid (HA) originates from the Greek word "hyalos," which means vitreous or glass-like, and the inspiration behind this name comes from the fact that Hyaluronic Acid was first isolated from the Vitreous Humour, an area of your eye which contains the clear, colourless fluid that fills the space between your lens and your retina.
Hyaluronic Acid is naturally found within the skin, alongside other water-loving, gel-like substances known as GAGS or Glycosaminoglycans. These substances form the background tissue of the skin matrix and play an important role in the cell signalling process. The most important of all the GAGS is Hyaluronic Acid, which is found in the skin, joint fluid, connective tissue and the corners of the eyes.
Even if you are unaware of the science behind Hyaluronic Acid, it is highly likely that you come into contact with it on an almost daily basis. It is widely manufactured in laboratories around the world and is used in various skin creams and serums to help increase the hydration within your skin. Recently, it has commanded more mainstream attention for its use in the injectables known as "Dermal Fillers," aesthetics treatments which are used to restore volume and definition to parts of the face that have started to appear hollow.
HYALURONIC ACID AND YOUR SKIN
HYALURONIC ACID AND YOUR SKIN
Ageing is a natural process that cannot be prevented, and like almost everything, Hyaluronic Acid slowly deteriorates as we do, losing the moisture-retaining properties that originally made it so valuable to our skin. However, all is not lost! Just because ageing cannot be prevented, that doesn't mean it can't be slowed down.
Did you know that almost all of our natural bodily functions need a hydrated environment to work efficiently? This very reason is why Hyaluronic Acid is so important to our body – for as a substance, it can hold up to 1000 times its own weight in water – making it a "humectant" known for its ability to draw out moisture and hold on to it in certain environments.
Not only does Hyaluronic Acid provide the skin with additional volume and a youthful glow, but it is also vital in maintaining the health of your collagen and elastin – the two proteins that help your skin stay supple, youthful and radiant. Hyaluronic Acid helps these proteins remain in a well-hydrated environment, preventing them from becoming hardened, brittle strands. This helps prevent the visible signs of ageing from appearing.
HYALURONIC ACID: UNDERSTANDING THE SCIENCE
Although it may be something that you wouldn't normally pay much attention to – understanding the science behind Hyaluronic Acid is crucial to get the best results possible for you and your skin.
Hyaluronic Acid's molecular structure remains the same whether it is produced by human tissue, animal tissue, plants or bacterial cultures – this is an extremely useful property as it makes it easy to manufacture and use in cosmetic products. There is also very little risk of someone reacting badly to it as a substance, which is why it is commonly used in fillers.
The molecular structure of Hyaluronic Acid, in its natural state, is far too large for it to penetrate the skin, unless of course it is directly injected into this by things such as fillers. It is here that the science-backed skincare products start to show why they are your products of choice over standard, off-the-shelf cosmeceuticals.
Let's say you get a great deal on a high concentration, HA serum. You'll be probably excited to get home and see the results for yourself. Unfortunately, if this serum hasn't been formulated to the right molecular structure, or does not have the right delivery system, then the skin's oil/lipid barrier may prevent the product from doing anything at all. When choosing a HA product, you should ALWAYS opt for one that is encapsulated in liposomes as these have a much higher rate of absorption and are much more likely to benefit your body and skin
Simply put, Hyaluronic Acid with a high molecular weight will sit at the surface level of your skin and help to moisturise it. HA with a low molecular weight will penetrate deeper levels of your skin, keeping it hydrated for longer. You need to be careful when using a pure form of HA in the winter or environments with strong central heating – you could end up stripping your skin of moisture, doing more harm than good!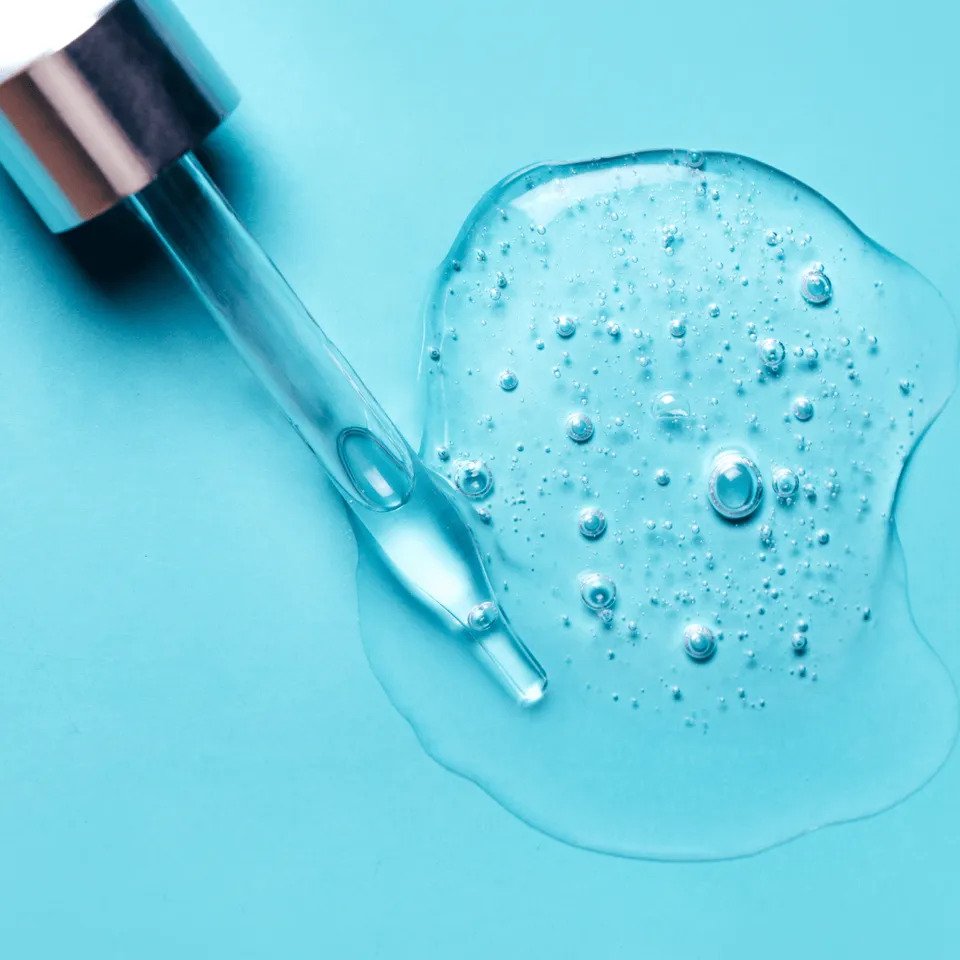 YOUR DAILY SKINCARE ROUTINE
How should I incorporate Hyaluronic Acid into my skincare routine? Well, I'm pleased you asked! Hyaluronic Acid is great for adding moisture and hydration to both dry and dehydrated skin. I recommend that you find a product that you like which contains all of your essential ceramides (lipids/oils that help form the skin's barrier and retain moisture) and antioxidants (substances that prevent damage to your cells) as these can work in harmony with the Hyaluronic Acid, with one helping to draw in moisture and the other keeping it locked in.
Hyaluronic Acid really is one of the best products out there as it can be used by people of all skin types, including those with sensitive skin, with little to no risk of an allergic reaction or irritation. Not only will it give your skin a radiant glow, but it can also help retain much-needed moisture, especially through the winter months.
When combined with antioxidants, HA can help fight the effects of daily free radical damage. This is something that would make an excellent daytime serum to be used on its own in the summer months and with an additional light moisturiser in the winter, especially if you have oilier skin.
MY RECOMMENDATIONS
Combining an HA serum with a facial roller can give you a match made in heaven, plumping and hydrating your skin from the inside out!
Surge, from Cosmedix, combines Hyaluronic Acid with antioxidants (including Niacinamide) to help revitalise, soften and plump your skin. You can find out more about this here.
Dermaviduals is another favourite of mine and offers two differing strengths of Hyaluronic Acid. One is a concentrate and one is encapsulated in liposomes to achieve the most optimal levels of absorption. These can be used neat i.e. put straight onto the skin or combined in prescriptive serums and moisturisers. These are safe to use after microneedling and can be applied to the skin every day! To find out more about Dermaviduals visit my website and book a consultation to order!
Alumier MD provides users with superb moisturising formulas and serums that are ideal for everyday use. They have both high and low molecular weight variants and feature natural emollients such as squalene and several antioxidants. Alumier MD can come in varying strengths so you can pick the one that is most suitable for your specific skin type. You can learn more about Alumier MD by visiting my website here.
MARIAM ABBAS
I'm an advanced facialist with a passion for skin rejuvenation and corrective treatments. I originally come from a Law and Economics background, however, many years ago I decided to pursue my passion and start my journey into aesthetics.
After gaining invaluable experience from an industry-leading London clinic, I started offering my own bespoke, luxury treatments. I truly believe that everyone can achieve beautiful skin and that they just need the right guidance and advice to make this happen. So come and join me for a consultation and learn more about how I can help you address your individual skin concerns, regardless of how big or small they may be.
You can contact me on 02034 881 401 or at mariam@mariamabbas.co.uk – you can also reach out to me via social media if that is easier for you. I look forward to hearing from you!